"If you spend a little time with these numbers you will know that they are being made up."-- Former Reagan budget director David Stockman, 2/5/12, commenting on the Bureau of Labor Statistics' employment report.
Dear All,
On Thursday evening, February 2nd, as the pencil-pushers at the Bureau of Labor Statistics put the finishing touches on the theoretically modeled fictional labor report they would release the following morning, a mass of unemployed Americans were theoretically summoned to a hastily called meeting at the U.S. Department of Labor's headquarters on Washington's Constitution Avenue. Funneling into a basement level meeting room they were largely silent as they sought seats. The vast majority was forced to stand; there were 1.2 million of them. A representative from the BLS took a microphone and spoke. 
"Good evening. Thank you for coming on such short notice. I'll get right to the point. We've got a Labor Report due out tomorrow and we've had to make some tough decisions.  I know how difficult the past number of months have been and that you've been diligently looking for work for quite a while now. But this isn't working out and we need to make a change in the headcount. So we're letting you go. You're no longer unemployed."
As discussed here often (most recently Discarded Denominators -- 12/4/11) the U.S. Department of Labor drastically overstates the percentage of the country's employed workers by simply reducing the stated size of the U.S. labor force. True to form, it produced a report on February 3rd that "beat" unemployment rate expectations by notably (which is not to ignore the other BLS fantasy modeling techniques) simply removing 1.2 million people from the labor force in one month.  By so doing the government was able to cosmetically shrink the visible rate of unemployment in January, although the labor force participation rate (the ratio between the labor force and the population) dropped in January to a new 30 year low of 63.7%. Zerohedge neatly sums it up: Explaining Yesterday's Seasonally Adjusted Nonfarm Payroll "Beat"
"What is very notable is that in January, absent BLS smoothing calculation, which are nowhere in the labor force, but solely in the mind of a few BLS employees, the real economy lost 2,689,000 jobs, while net of the adjustment, it actually gained 243,000 jobs: a delta of 2,932,000 jobs based solely on statistical assumptions in an excel spreadsheet!"
Shadowstats' John Williams in fact calculates that the rate of unemployment actually moved higher in January to 22.5% from 22.4% in December.
In reviewing the most recent release from the Ministry of Disinformation, the Bureau of Labor Statistics, Charles Biderman notes that last Friday's happy  unemployment report also flies in the face of real-time daily income tax collection receipts, something almost nobody questions: 
"Remember, most financial journalists and even stock market strategists do nothing more than rewrite government press releases. So do not expect very few others to question the good news"
As Biderman points out, to the extent that the theoretically modeled BLS reports even use hard data, it is many months stale. But then, why use hard real-time hard data when you can concoct modeling propaganda in a laboratory that better suits your political agenda, particularly when hardly anyone questions it?
And then, in the face of the uplifting unemployment report there is this: Challenger: Planned layoffs surge in January 
Contrast BLS stats with others that are not seasonally adjusted,' subject to substitutions or 'birth-death" modeling, to wit: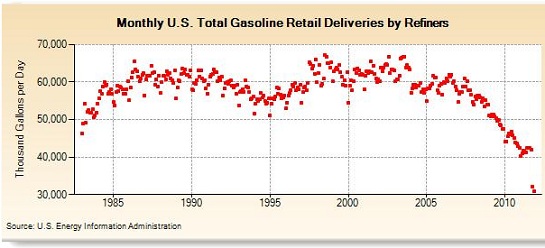 Gee, I dunno....perhaps it's because people don't have jobs? OfTwoMinds: Why Is Gasoline Consumption Tanking?
"Retail gasoline deliveries, already well below 1980 levels, have absolutely fallen off a cliff...Even if you dismiss the recent plunge as an outlier, the declines in retail gasoline deliveries are mind-boggling."

 
Establishing yet again that crime pays, The 5 largest banks have agreed to partly fund a $26 billion settlement that will result in payments to a select group of Americans, some of whom were actual bona fide victims of mortgage fraud.  It is an Obama administration led wrist-slap upon the banking industry from which it receives oodles of campaign cash.  The settlement is another thinly disguised bank bailout and immunity from prosecution deal for bank executives and servicers, dressed up as punitive enforcement using government/taxpayer largess. Bank fraud expert William Black was asked about the pending settlement in an interview Tuesday: "The bad news is that the Obama administration has proven even more disgraceful failures in holding elite criminals accountable than did the Bush administration. "The Obama administration has convicted a few bankers from non-elite banks and it may eventually convict a token elite banker, but it will continue to fail systemically to hold elite bankers accountable for their frauds."
Here is the president in his State of the Union address:
"Let's never forget: Millions of Americans who work hard and play by the rules every day deserve a government and a financial system that do the same. It's time to apply the same rules from top to bottom. No bailouts, no handouts, and no copouts. An America built to last insists on responsibility from everybody.

We've all paid the price for lenders who sold mortgages to people who couldn't afford them, and buyers who knew they couldn't afford them. That's why we need smart regulations to prevent irresponsible behavior...And I will not go back to the days when Wall Street was allowed to play by its own set of rules."
Nice speech.  Sure, pile on more regulations for ineffective agencies such as the CFTC and SEC to pretend to enforce.  Prosecute criminals? Not so much:  Washington'sBlog: Obama Prosecuting Fewer Financial Crimes Than Under Reagan or Either Bush
If you've never seen a bank run, here's what one looks like (Source: Credit Suisse):
As discussed here previously, narco-finance is one of the structural pillars of the banking system and perhaps its most important private source of liquidity. Who is kidding whom?  The investigation will go nowhere: Former HSBC employee claims evidence of an international $ multi-billion money laundering scheme 
ReutersExclusive - Senate investigating HSBC for money laundering
I would add an additional point; in regulated insurance it is unacceptable to insure a party that lacks an insurable interest in the subject asset: OfTwoMinds: Counterfeit Value Derivatives: Follow the Bouncing Ball
In a letter to the Wall Street Journal sixteen highly distinguished scientists stated that CO2 (even at 10x the current amount) is beneficial, not harmful, global warming alarmism is motivated by money and power, and that governments fund academics who promote alarmism because it justifies more political control and higher taxes. They point as well to academic intimidation of those who dissent from the party line.
For the melting busybodies... -- TheGuardian: The Himalayas and nearby peaks have lost no ice in past 10 years, study shows
"The discovery has stunned scientists, who had believed that around 50bn tonnes of meltwater were being shed each year and not being replaced by new snowfall."
And in a new book, "Die kalte Sonne" ["The Cold Sun'"] that comes as a huge blow to Europe's climate change movement, one of the fathers of Germany's modern green movement has changed his view and is now calling global warming a myth and the product of UN's IPCC twisted science to further its political agenda: 
"Vahrenholt's skepticism started when he was asked to review an IPCC report on renewable energy. He found hundreds of errors. When he pointed them out, IPCC officials simply brushed them aside. Stunned, he asked himself, "Is this the way they approached the climate assessment reports?"

  
The bubble in graduate degrees is an extension of the college bubble: The Law School Bubble           TheIveyFiles: "We should be Ashamed of Ourselves"
"At 50 law schools, 20% of the students are either unemployed, flunked out, or are unknown, yet the ABA and LSAC disavow the use of data to rank law schools."
The trend...
RussiaToday: Chinese 'gold rush': Country diversifying assets
On gold and silver...
As the paper prices of both precious metals bide their time the financial system deteriorates daily.  The inevitability of drastic gold and silver re-pricing is a lock -- the fate of the dollar and other paper currencies assures it.  Well managed gold and silver companies with meaningful reserves are simply a slam-dunk.
Block out the noise. Keep your ear to the tracks, not to the pundits.
Jeff